Modesto, CA 95356
Trunk Show:
"Retrospective Trunk Show – Quilts and Wearable Art"
A truly "moo-ving" experience! Cathie will present her award-winning quilts, discussing why she used the batting, colors, printed and hand dyed fabrics, and embellishments for each. Your members will model her wearable art creations, most of which starred in Fairfield Fashion Shows and Bernina Fashion Shows over the past 25 years.
She shares amusing stories about the creation of many of her quilts and wearable art pieces. Trade secrets, techniques and favorite tools used will be discussed. No question will be unanswered!
Lectures:
"Accept the Challenge" (Slide Lecture)
Learn to say "yes" when asked to participate in a challenge that leads to growth in one's work and opens the eyes to other design and color choices. Cathie speaks about personal experiences and challenges that have expanded her creative comfort zone. She takes you step-by-step through the development of several quilts and wearable art pieces to enhance your understanding of her design processes.
A few special quilts and wearable art pieces will be on hand for your examination.
2" "Cathie's Past and Present Involvement with the Color Red" (Slide lecture)
From a very young age, Cathie loved the color red. In this presentation, she shares images of her childhood in England and Morocco, relating some of those experiences to her original quilts and wearable art. The color red actually slipped into her work subconsciously, and Cathie wants to share her experience as an example of how to discover your personal color preferences.
A few of the quilts and wearable art pieces discussed will be on hand for guild members to examine up close!
Workshop:
Floral Medallion Quilt--Collage and piecing

Applique and Embellish a "Wild and Crazy" Quilt

Best Sampler of Patchwork Techniques

"Intersecting Rings" technique for Accurate Piecing

Reverse Applique A Nine Patch Star Quilt - by Machine, a 22" gem!!!
Machine Applique Techniques--satin, raw edge, reverse (by machine) blanket, mock hand, and simple turned under tricks to mimic handwork.
"Wild for Machine Embellishments" Kit fee: $15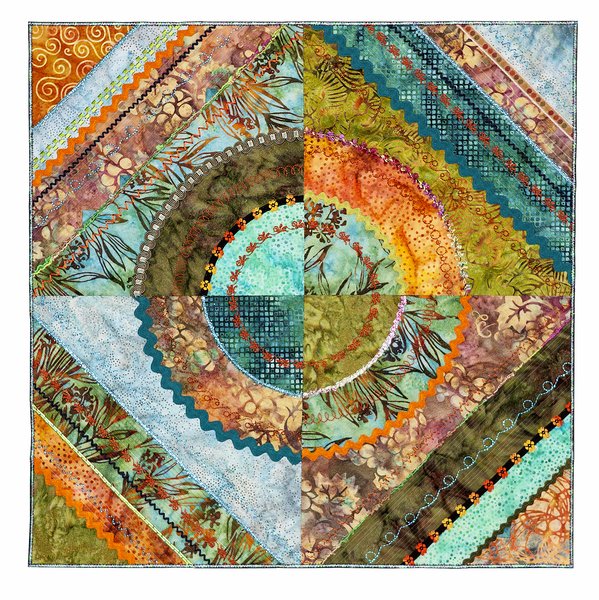 Embellish with your sewing machine and make a 20" x 20" sampler. Learn the techniques of: couching with soutache, fuzzy and slubby yarns; apply woven braids, ribbon, rickrack; stitch fancy designs with beautiful threads, both through the needle and from the bobbin! Beautifully finish the sampler's outer edge with threads, not binding!
All techniques will be demonstrated in class, and students will receive complete printed instructions covering all techniques.
Kit includes: All batik fabrics for sampler, including pre-cut, interfaced batik fabrics for blocks and the backing batik fabric; all braid, ribbon, rickrack, and soutache. The beautiful and fancy threads will be available for stitching in class and available for purchase to take home.
"Beginning Machine Appliqué - Cow Over the Moon and Beyond" Kit fee: $15
Learn beginning machine appliqué and end up with this charming 16" x 20" wall quilt for your new baby or grandchild. You will learn appliqué techniques of: satin, blanket stitch, Cathie's "reverse appliqué by machine" (using no fusible), mock hand appliqué, and several easy ways to create perfect circles while making "planets."
You will learn the pros and cons of using fusibles and Cathie's recommendations on which ones to use and when to use them.
All techniques will be demonstrated in class, and students will receive complete printed instructions covering all techniques.
Kit includes: All fabrics for: the incredible universe background, one Holstein cow, one moon, three planets (Jupiter, Mars and Venus), batik backing and comet fabric for binding.
--------------
Updated 10-27-2017
Renewed: N