Skip Navigation
Website Accessibility
What's New?
Important Budget Update for 2023-2024.

An email regarding an increase in membership dues and insurance premium was sent out on 20 September to all Member Guild officers on record and also to all Affiliate Members. If you did not receive the email,

click here

to view the information.


SCCQG Exhibit at Road to California 2024
Call for Quilts SCCQG 2024 Special Exhibit
"Stitching a Community Together"
Road to California Quilters Conference January 17-20, 2024
This exhibit is all about how quilting brings us together, whether in a sewing circle, a guild, making quilts for community partners, and/or sharing what we've learned through collaborations and workshops. All SCCQG guilds are encouraged to submit at least one such quilt along with its community story (i.e. a group quilt made for a library fundraiser, one made for a guild charity/philanthropy partner, friendship quilt, "Lou" taught me how to do this, group created quilt made for a community fundraiser, etc).
Group and individual made quilts accepted for consideration.
Quilts of all styles and techniques are welcome so long as they fit the requirements below.
Entry requirements are as follows (please read carefully):
The quilt must have been finished in 2021/2023 and be in good condition.

The size constraint is that its perimeter should not be larger than 240" overall and no smaller than 48" overall.

Embellishments must not protrude more than ½" from the surface of the quilt.

The quilt must be made of fabric and quilted either by hand, or machine, or both.

It must be constructed of three layers and bound or closed around all quilt edges.

Entrant must be a current member of an SCCQG Member Guild or an Affiliate member.

Enter by mail or email. Mailed entries must include a color photo of the quilt with the title of quilt and Entrant's name clearly listed on the back of the photo (plain paper photo copy is okay). E-mailed entries must include a separate digital jpeg photo named as follows: entrant's last name_(underscore)name of quilt.jpeg. For example: "Smith_sunrisemountain.jpeg" Each entry must have a short paragraph describing how the entry created sense of community.
Timetable
October 23, 2023 (Monday) All entry forms and photos due.
Mailed entry form, quilt/quilt top photo, and a self-addressed stamped envelope must be received no later than Monday, October 23, 2023. Email entries need to include a current email address for confirmation of receipt.) See instructions above.
December 4, 2023
Notification letters will be e-mailed by this date. Accepted entries will receive instructions for quilt shipment. Entrants will be responsible for all shipping and insurance costs. Details regarding required sleeve and label indications will also be included.
January 8, 2024
Deadline for receipt of exhibit quilts. Accepted quilts must be received by the SCCQG Road2CA Curator (Kate Weber) for exhibition.
January 17-20, 2024
Quilts will be displayed as part of the SCCQG "Stitching a Community Together"Exhibit at Road to California, Ontario Convention Center, Ontario, California.
January 20 – February 5, 2024
Quilts will be returned to Entrants according to prior arrangements.
Entries and Questions: via email to SCCQGRD2CA@gmail.com
via USPS to PO Box 92814, Long Beach, CA 90809 Attn: SCCQG RD2CA
SCCQG and Road reserve the right to reject quilts not suitable for hanging.
You can complete the entry form for the Special Exhibit online, the link for which can be found HERE.
SCCQG Quarterly Meeting, July 15, 2023 -
Dr. Linda F. Wilson, Department Chair for Math, Computer Science, & Information Systems at Texas Lutheran University was our guest speaker for this meeting. Her topic was Cyber Security for Quilt Guilds and she provided us with a great deal of insight into how to manage the challenges of cyber security in today's world. There was information for guilds and for personal use. Dr. Wilson did allow us to record the meeting and you'll find that link in Program Notes below. She also provided a PDF copy of her slides. If you weren't able to join us at the meeting, we hope you'll take the time to look through her slides and/or view the recording. There is a great deal of valuable information for you to share with your guilds, family, and friends!
SCCQG Quarterly Meeting, October 14, 2023
- Philanthropy and Volunteers
Philanthropy is an integral part of the quilting world. SCCQG would like to share more information about the types of projects undertaken and the types of charities/community organizations that member guilds support. A questionnaire will be sent out to the guilds requesting specific information about projects and charities/organizations. We would also like to discuss ways to increase volunteer participation in philanthropic projects and how to increase the amount of quilts completed. Many guilds have too many tops and not enough volunteers/people to quilt them.
Check out the Calendar at the bottom of the Home Page!
We're getting back to something like normal. You can see many more events and quilt shows listed in the calendar. Is your guild starting to plan an event? Send your event information to info@sccqg.org for Sandy, our webmaster, so that she can post your information on the Calendar.

Gallery of Guild Opportunity Quilts
Go to the Calendar to view details on how/where to purchase tickets.
Valley of the Mist Quilters Guild Opportunity Quilt
Kaleidoscope. Size: 83" x111".
October 7, 2023
Lompoc Quilters Etc. Opportunity Quilt
Size: 68" x 91".
October 26, 2023
Almond County Quilt Guild Opportunity Quilt
Margaret's Flower Garden, Size: 76" x 86".
November 4, 2023
Quilters Piece Corps of Victor Valley Opportunity Quilt
Size: 68" x 91".
November 13, 2023
Mountain Quilters of Idllywild Opportunity Quilt
November 25, 2023
El Camino Quilters Guild Opportunity Quilt
Kaleido-pop
December 12, 2023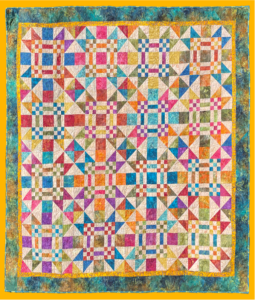 Central Coast Quilters Opportunity Quilt,
Edyta Sitar pattern
Size: 70" x 70"
December 12, 2023
Glendale Quilt Guild Opportunity Quilt,
Joy. Size: 72" x 72"
December 13, 2023
Santa Clarita Valley Quilt Guild Opportunity Quilt
Pinwheel Parfait. Size: 64" x 78".
December 14, 2023
Valley Quilters Guild Opportunity Quilt
Pulled Together Into A Heart
February 9 & 10, 2024
South Bay Quilters Guild Opportunity Quilt
Block Party. Size: 80" x 80"
February 17 & 18, 2024
Fallbrook Quilt Guild Opportunity Quilt
Mill Girls Block of the Month. Size: 92" x 92"
June 6, 2024
Welcome to the Southern California Council of Quilt Guilds!
Welcome to the Southern California Council of Quilt Guilds (SCCQG) website. The purpose of this site is to provide council information to member guilds, business partners, and individual members.
The Southern California Council of Quilt Guilds (a 501 (c) (3) association) was organized for several purposes:

To foster and promote knowledge and participation in the craft/art form of quilting, patchwork, appliqué, and all other aspects of quilt making.

To act as an information network for quilt guilds with similar objectives in promoting continued interest in quilt making.

To provide a forum for cooperative endeavors among all quilt guilds in Southern California and surrounding areas.

To readily inform quilt guilds and individual quilters of resources available to them.

To encourage development of friendships state, nation, and world wide.

To foster education through cooperative sharing of speakers, teachers, and programs for member guilds.

To act as a resource for those wishing to organize new guilds.

To maintain a calendar for quilting events in the Southern California geographic area and to make such information readily available.